On March 19th, 2021, Momenta announced the completion of Series C financing totaling $500 million, led by Chinese strategic investor SAIC Motor, global strategic investors Toyota and Bosch, together with renowned investment institutions Temasek and Yunfeng Capital. Other participating investors include Mercedes-Benz AG, GGV Capital, Shunwei Capital, Tencent, Cathay Capital, etc.
Cao Xudong, CEO of Momenta, said: "ever since the early days of establishment, the company has pursued a very strongly data-driven approach to autonomous driving. We call our strategy 'one flywheel' and 'two legs'. In four years, our focused strategy has enabled us to create products which have been widely recognized by our customers across the automotive industry. This round of financing marks an important new milestone for the company on the path to integrating our technology on vehicles worldwide. "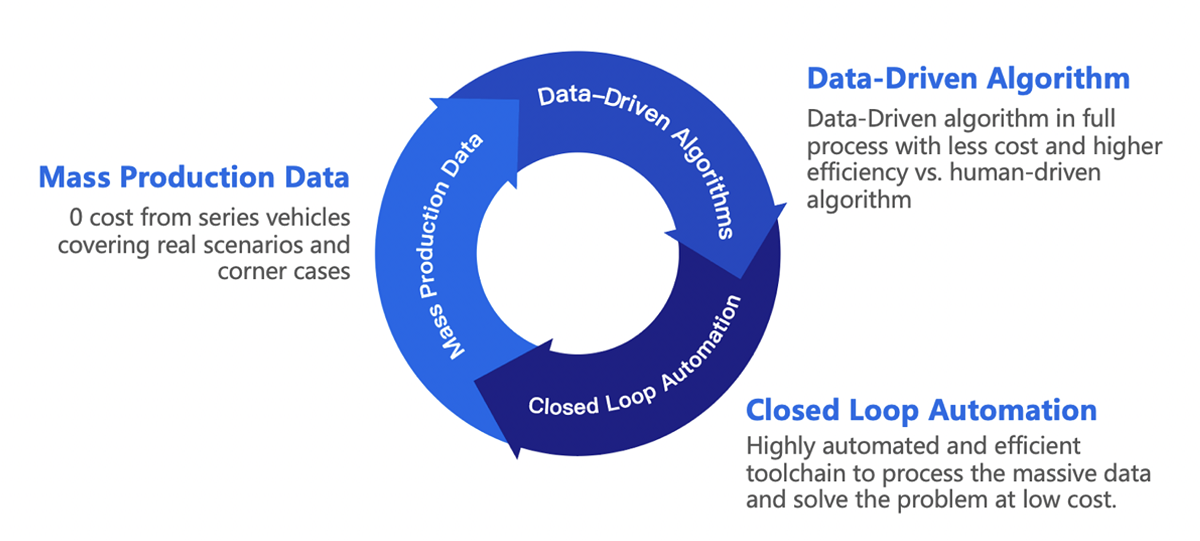 Momenta "One flywheel"
"One flywheel" is a positive feedback loop consisting of three factors that provide input and growth momentum to each other: accumulation of mass production data, iteration of data-driven algorithms and closed loop automation.
The "flywheel" requires significant force to start spinning, but once you get it into motion, growth gets incredibly efficient. To put this into perspective, mass production data are utilized in data-driven algorithms, which improve L4 technological development, which are then applied in the next generation of mass production products and the process repeats again and again.
The company has achieved the development of data-driven algorithms via this approach – much faster than it would have been possible with a traditional development approach. With the flywheel the company can automatically solve over 90% of the long tail problems, improving the R&D efficiency by ten times compared with a fully manual method.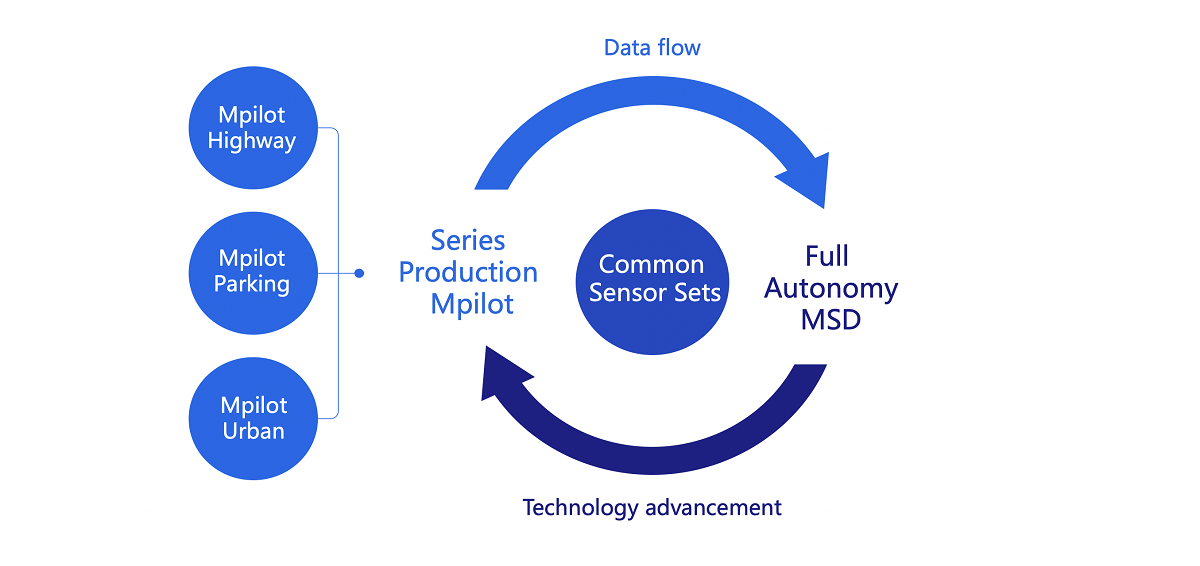 Momenta "Two Legs" Strategy
With the acceleration of the flywheel, the "two legs" strategy quickly came to fruition. The "left leg", which is Mpilot for mass production, provides industry-leading end-to-end autonomous driving solutions and outputs nonstop data streams. "Right leg" MSD develops L4 fully automated driving technology and provides improved algorithms to mass production products.
Together with several international and domestic top OEMs and Tier1s, Momenta has achieved rapid commercialization. The first customer cars integrated with Mpilot will be mass produced as early as 2021. Momenta GO (L4 Robotaxi mobility service product), started pilot operations in 2020, which will be expanded both in size and scope with a target to eliminate safety drivers of some proportion of vehicles in 2022.
By 2024, Momenta GO will be deployed in large scale and operate profitably. Mpilot will be integrated into customer cars, and support exponential growth of improvements of algorithms via continuously providing data for the flywheel approach. This will enable the company to realize large scale autonomous driving at an extremely fast speed.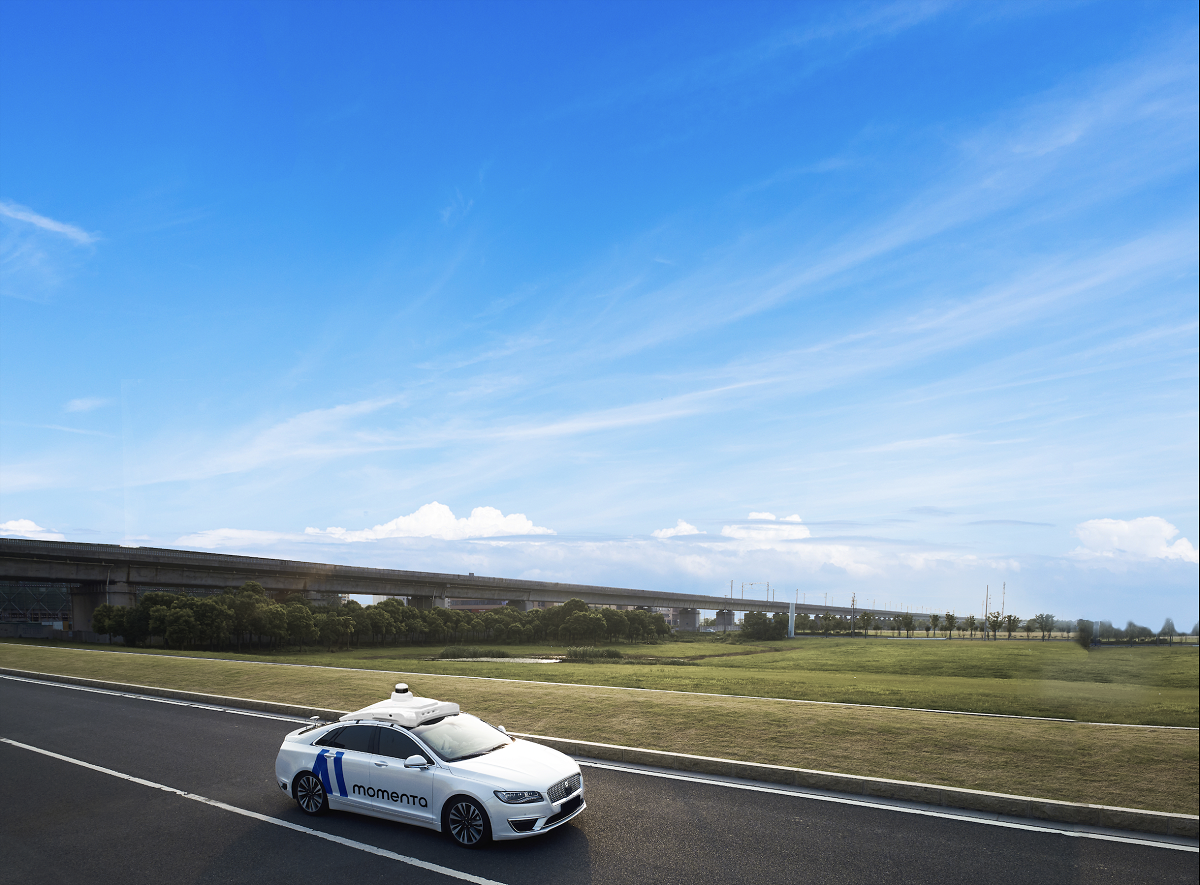 Going forward, Momenta will be working together with customers to build industry-leading autonomous driving products, and achieve this vision: save one million lives, save 100% driving time, and double the efficiency of logistics and mobility in ten years.